"A Summer Dream"
by John Wesley Shockley
(1839-1907)
Two quotes apropos from Larry Lockridge's, Shade of the Raintree:

[Ross Lockridge, Jr.] had more than a hundred poems in elegant calligraphy by his grandfather John Wesley Shockley, who aspired to a more genteel and visionary utterance than his own father's [Ross, Sr.] but never thought of sending these effusions beyond the local newspapers. My father would gain a wider audience for him [as the character in Raintree County, John Wickliff Shawnessy]. p 240

I find no unfinished epic in his [John Shockley's] surviving works to suggest a larger literary ambition. The closest is "An Indian Idyll," which exists in three unfinished drafts and concerns an ancient temple of twelve large slabs, on which an epic legend has been etched in an Indian language now lost. Another lengthy narrative poem, "A Summer Dream," mingles Spenser, Coleridge, and Keats, as my brother Ernest notes, in an Edenic quest romance full of birthing monstrosities. p 275

Here in facsimile is shown the first page of this 23 page poem.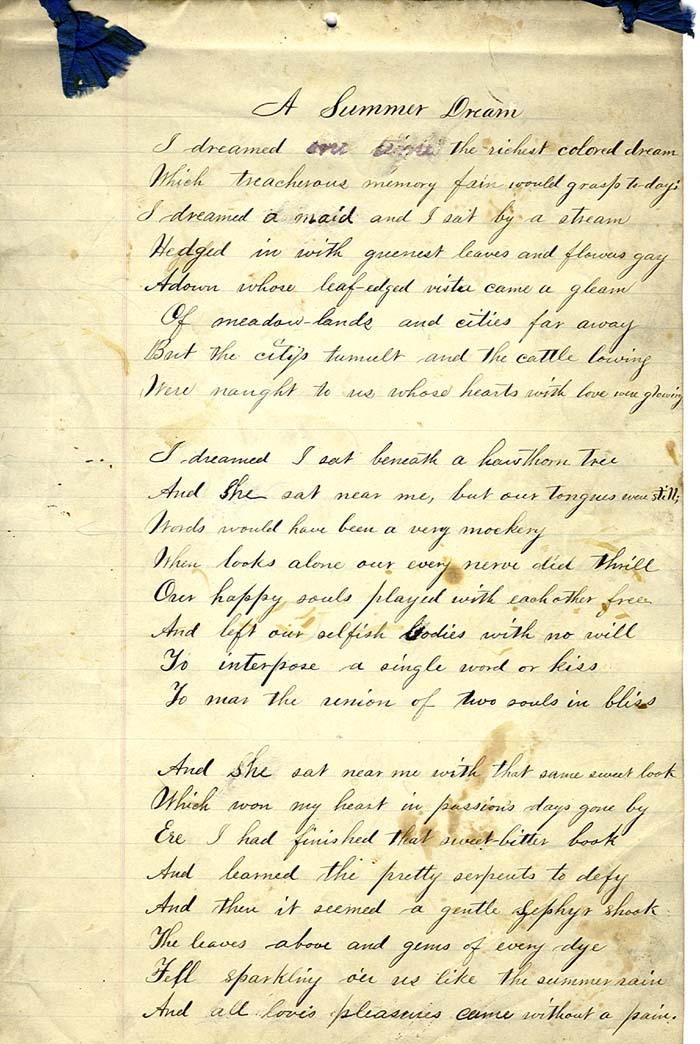 Back to Facsimiles Page
Back to Table of Contents
---
Email
---
Site managed by RIII
Page: June 2000
http://www.raintreecounty.com